TRANSPORT smartcard specialist ESP Systex proved to be the prime mover amongst Yorkshire's privately owned companies with a double win at the Ward Hadaway Yorkshire Fastest 50 Awards 2016.
The Hull-based company won the awards for Fastest Growing Large Business and Overall Fastest Growing Business at the event at Aspire Leeds.
ESP Systex, which is part of the ESP Systex Group, has grown to become a market leader in smartcard issuing, management and fulfilment for the transport sector with clients including Transport for London, the Association of Train Operating Companies, London Councils and the Scottish Government.
The company's stated aim is to use technology to help people's lives become simpler rather than more complicated and help transport operators and cities to deliver the transport services of the future.
Terry Dunn, Chief Executive, of ESP Systex Group, said: "We are so pleased to win and we really didn't expect to.
"I think the secret behind our growth has been taking chances and recruiting the right people. Transforming from small to medium to large has been a big challenge and it's about people primarily and creating the right atmosphere for them to perform in.
"Our future as a company is about managing people's mobility, providing best value and harmonising with government objectives to show that there's a better way for people to get around."
ESP Systex won the Fastest Growing Large Business after coming second in the same category in the 2015 Yorkshire Fastest 50 Awards.
Second-placed in the Fastest Growing Large Business for 2016 was Leeds-based speciality textile oils supplier Vickers Oils whilst Harrogate-based multi-channel retailer High Street TV was third in the category.
ESP Systex was not the only winner at the awards, organised by Top 100 UK law firm Ward Hadaway in association with The Yorkshire Post.
Dewsbury-based Pet Brands was named the Fastest Growing Small Business in Yorkshire for 2016.
The company designs and manufactures a wide range of accessories and treats for pets and wild birds, serving a UK and international customer base spread across more than 40 countries.
Donna Hoyle, Operations Manager, at Pet Brands, said: "We are really pleased to win – it's a brilliant achievement.
"We have all put in a lot of hard work over the years so this is really well done."
Second place in the Fastest Growing Small Business category went to Sheffield-based electrical safety services provider Guardian Electrical Solutions Limited Wines while Dewsbury-based mattress and pillow maker AJ Foam Ltd took third place.
Bradford-based Advanced Forwarding Limited performed the impressive feat of retaining its title of Fastest Growing Medium-Sized Business of the Year after winning the same award in 2015.
Part of the Advanced Supply Chain group, Advanced Forwarding provides a range of logistics and international freight forwarding services.
Nick Kay, Director at Advanced Supply Chain, said: "We are so pleased for all of the team at the business who have put in so much hard work and skill – this award is really for them.
"We have had a good past few years but we want to continue to push on – we can do more and we want to do a lot more with Yorkshire businesses. We want them to connect with us."
Advanced Forwarding won the award ahead of soft and alcoholic drinks producer Corinthian Brands of Knaresborough, who were second, and third-placed Simon Gibson Transport, which is based in Goole and specialises in bulk power and granular product transport, handling and storage.
The winning companies and the runners-up were revealed before an audience of more than 200 people, including Fastest 50 company representatives and Yorkshire business leaders, at Aspire in Leeds on Friday 20 March.
Former CBI director general and current Transport for the North chair John Cridland gave the keynote speech at the event.
He said: "There is no more important topic than business growth and no more important thing to do than to celebrate those companies here who are getting it right."
Mr Cridland praised the Ward Hadaway Yorkshire Fastest 50 for focusing on businesses of all sizes and he outlined Transport for the North's plans to boost transport and connectivity right across the North of England.
The Yorkshire Post Editor James Mitchinson introduced the awards, which reward profit-making privately-owned companies and organisations in the region which have shown the strongest annualised sales growth over recent years.
Ward Hadaway Commercial Partner Philip Jordan talked about the firm's involvement in the awards, which were first held in Yorkshire in 2011, and about Ward Hadaway's growth in Yorkshire.
Researchers at Bradford University School of Management compiled the Yorkshire Fastest 50 list for 2016.
Jamie Martin, Managing Partner at event organiser Ward Hadaway, said: "This is the sixth time which we have held the Ward Hadaway Yorkshire Fastest 50 Awards and we never cease to be impressed by the brilliance of the businesses which the event highlights.
"All of the winners and indeed every company in the Fastest 50 deserve praise and congratulations for their achievements in expanding their businesses at the same time as remaining profitable.
"It is their hard work, determination and vision which is help to generate prosperity, create jobs and attract investment to the region.
"As a Northern law firm for national business with offices in Leeds, Newcastle and Manchester, it is terrific for us to see such success helping to drive the region forward."
* To read a special 12-page supplement on the Ward Hadaway Yorkshire Fastest 50 Awards 2016, please click here.
The Yorkshire Fastest 50 2016 roll of honour
Fastest growing small business
Winner: Pet Brands, Dewsbury
2nd place: Guardian Electrical Solutions, Sheffield
3rd place: AJ Foam Ltd, Dewsbury
Fastest growing medium-sized business
Winner: Advanced Forwarding Limited, Bradford
2nd place: Corinthian Brands, Knaresborough
3rd place: Simon Gibson Transport, Goole
Fastest growing large business
Winner: ESP Systex, Hull
2nd place: Vickers Oils, Leeds
3rd place: High Street TV, Harrogate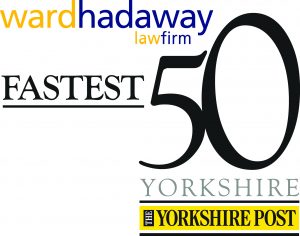 Overall fastest growing business
Winner: ESP Systex, Hull
* Find out more about the Fastest 50 Awards.
Please note that this briefing is designed to be informative, not advisory and represents our understanding of English law and practice as at the date indicated. We would always recommend that you should seek specific guidance on any particular legal issue.
This page may contain links that direct you to third party websites. We have no control over and are not responsible for the content, use by you or availability of those third party websites, for any products or services you buy through those sites or for the treatment of any personal information you provide to the third party.