Andrew Dunn, Property Partner at Ward Hadaway in Manchester, continues the build-up to the Ward Hadaway Greater Manchester Fastest 50 Awards 2016 with a look at the region's property sector.
THE property development sector is a good barometer for an economy's progress.
Nowhere is this more evident than Greater Manchester where the economy is bubbling with positive energy. Just look at the many cranes on our horizon – new property developments of all kinds are being planned and constructed right across the region.
Greater Manchester has reinforced its reputation as a prime real estate location, attracting investor cash including overseas lenders and investors and it is good to see them pairing up with local developers.
Alternative lenders are offering higher leverage and are active in our region, operating within a wider range of risk profiles and complementing nicely the debt funding being given by our banks.
The size and economic importance of Greater Manchester is key, and we are at the core of the Northern Powerhouse movement.
Just last week came the news of plans to redevelop the iconic former Boddington's Brewery site into a major mixed-use development of residential, retail, hotel and offices.
There is a similar mix of uses intended for the luxurious Jacksons Row regeneration scheme, including quality public realm. There is also the First Street office development, the Two St Peter's Square development and Allied London's XYZ Building in Spinningfields. Our landscape is changing.
As a symbol for the way in which Greater Manchester's economy is regenerating, reshaping and revitalising itself, it is hard for any other regional economy to beat.
Manchester's office space saw deals totaling 2.5m sq ft in 2015 and the city is in the top ten of UK locations forecast to see the most economic growth.
The increasing demand for space includes existing companies growing their businesses as well as new arrivals to the region. For example, last year we at Ward Hadaway advised camping holiday specialist Eurocamp on its northern headquarters relocation to larger premises just outside Northwich in Cheshire, and we are well positioned to assist the fast growing companies of our region to find the right premises.
The market for sales of existing commercial property investments is also very healthy. For example, Ward Hadaway advised on the recent £42.38m sale of Matalan's Northern Distribution Warehouse in Knowsley to a listed real estate investor.
It is perhaps unsurprising that commercial property investment in Manchester alone hit £1.2bn in 2015, part of a total of £8.2bn of commercial property investment in the city over the past decade, putting it well ahead of the likes of Glasgow and Birmingham.
The residential sector is surging – latest estimates show there are now 13 residential schemes ongoing in Manchester city centre alone, accounting for 2,982 residential units.
Again, the demand for such developments appears to be there – earlier this month came the announcement that the £30m 'Hat Box' development in New Islington had reached full occupancy.
At Ward Hadaway, we are advising a number of residential and commercial developers on exciting new schemes across the region.
Finally, recent legal developments can be considered good news for developers. Permitted development rights to change from office use to dwellings have been made permanent with effect from May 2016; and recent case law on rights of light issues has seen a preference for Courts to award damages as opposed to injunctions, which helps keep the development sector moving in those tightly spaced schemes.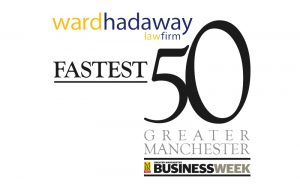 While the Northern Powerhouse is yet to arrive, it would be true to say that our region is doing its best to build it.
* Find out more about the Fastest 50
Please note that this briefing is designed to be informative, not advisory and represents our understanding of English law and practice as at the date indicated. We would always recommend that you should seek specific guidance on any particular legal issue.
This page may contain links that direct you to third party websites. We have no control over and are not responsible for the content, use by you or availability of those third party websites, for any products or services you buy through those sites or for the treatment of any personal information you provide to the third party.