THE managing director of Manchester Airport will be the guest speaker at the Ward Hadaway Greater Manchester Fastest 50 2016 Awards next month.
Ken O'Toole will be making the short journey to the Museum of Science and Industry in Manchester on Friday 4 March to make the keynote speech at the event, which is organised in association with law firm Ward Hadaway and highlights the achievements of the region's fastest growing companies.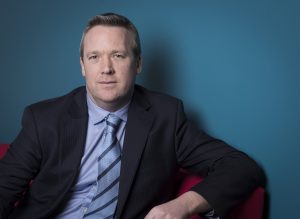 Ken (pictured) became managing director of Manchester Airport last year after joining Manchester Airports Group as chief commercial officer in 2012 following a number of years working for Ryanair.
In his current role, he has overall responsibility for the running, operations and commercial elements of Manchester Airport, the UK's third biggest airport, which racked up record passenger numbers of over 23 million in 2015.
As well as being a key transport hub for Greater Manchester and a gateway to global markets for the region's businesses, announcing the first direct flights between China and Manchester last year, the airport is also one of the largest employers in the area with a workforce of more than 21,500 people.
Manchester Airports Group is part of the joint-venture developing Airport City, along with the Beijing Construction and Engineering Group, Carillion and the Greater Manchester Pension Fund.
Over the next 10 years, the £800m scheme will deliver 5m sq ft of office, logistics, hotel, retail, and advanced manufacturing space. The first of its kind in the UK, it will compete with successful airport cities across Europe including Amsterdam, Frankfurt and Barcelona and will potentially provide 16,000 employment opportunities.
Last month, Manchester Airport announced it is creating 1,500 jobs as part of a £1bn plan to transform and expand the airport over the next decade, more than doubling the size of Terminal Two and linking it to an improved Terminal Three..
Ken O'Toole will be meeting representatives of the region's fastest growing companies at the Greater Manchester Fastest 50 Awards 2016 in March.
The awards highlight and celebrate privately owned, profit-making businesses in Greater Manchester and the surrounding area which have grown their turnover by the largest amount in recent years.
Speaking about his forthcoming appearance, Ken said: "I am looking forward to addressing the Ward Hadaway Greater Manchester Fastest 50 Awards 2016, which come at an exciting time for Manchester Airport.
"Having announced record passenger numbers last year and revealed plans for our £1bn Transformation Programme, we are looking forward to yet more growth in 2016 and the launch of a number of key routes, including to Los Angeles, Boston and Beijing.
"We are proud to play a part in supporting the growth of the region's economy by connecting businesses of all sizes to overseas markets they often cannot access from any airport outside of London.
"That is why I am especially looking forward to finding out more about Greater Manchester's fastest-growing firms and meeting the people behind them, so we can see how the airport can help them to continue their future growth ambitions."
Jamie Martin, Managing Partner of Greater Manchester Fastest 50 organisers Ward Hadaway, said: "We are delighted that Ken has accepted our invitation to be the guest speaker at the Greater Manchester Fastest 50 Awards for 2016.
"Manchester Airport is a vital part of the infrastructure of the region's economy as well as a thriving and successful business in its own right with exciting plans for further development over the next decade.
"As a result, I am sure Ken will receive a warm welcome from the audience at the awards who will be very interested to hear what he has to say about the role of transport in helping to fuel further growth and development across the region."
This will be the third year that the Ward Hadaway Greater Manchester Fastest 50 Awards have taken place.
The awards will see trophies presented to the fastest growing small business, the fastest growing medium-sized business and the fastest growing large business. One of these three award winners will then be crowned the overall fastest growing business for 2016.
Next month will be the first opportunity to discover those companies in contention for the awards when we publish the full A-Z list of the 50 fastest growing companies in Greater Manchester for 2016.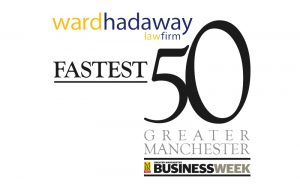 It is from this list that the winners of the awards will be drawn and revealed on March 4.
* Find out more about the Fastest 50 Awards.
Please note that this briefing is designed to be informative, not advisory and represents our understanding of English law and practice as at the date indicated. We would always recommend that you should seek specific guidance on any particular legal issue.
This page may contain links that direct you to third party websites. We have no control over and are not responsible for the content, use by you or availability of those third party websites, for any products or services you buy through those sites or for the treatment of any personal information you provide to the third party.