Nominations are now open for the 2021 edition of the Leeds Digital Festival Awards!
Hosted by Amsource and WardHadaway, the Leeds Digital Festival Awards celebrate all that is great about the digital & tech industry in Leeds and the wider city region in the last year. The thriving scene is home to start-ups, SME's and larger businesses where tech is at the heart of everything they do. The awards celebrate the organisations and individuals driving the vibrant industry. It's your chance to join in and nominate the digital heroes we have in Leeds.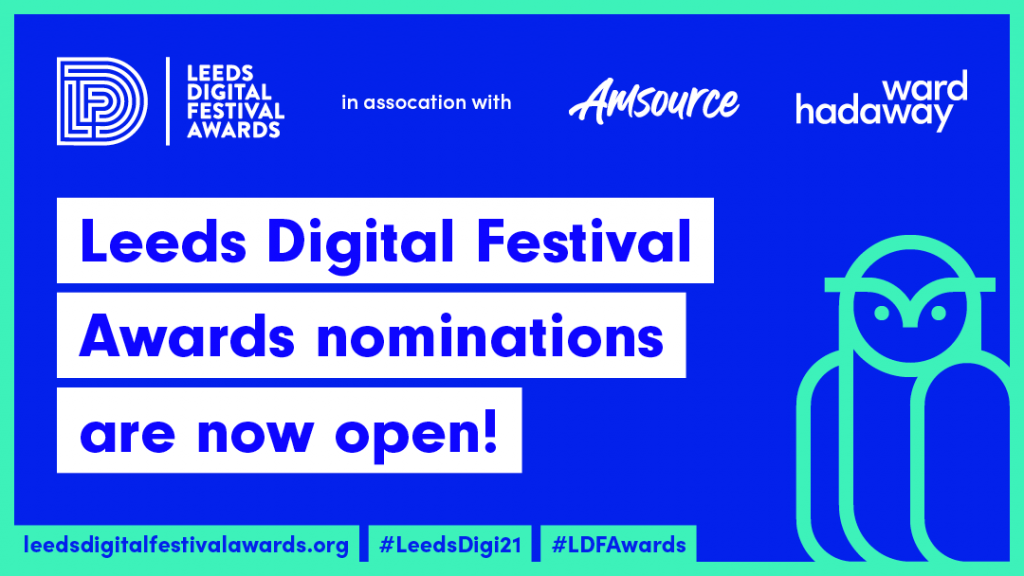 We hope that this year will see the return of the Awards in person, having been forced – like everything else! – to move online in 2020. Regardless of where and how the Awards take place, we know that providing a platform for Leeds' best and brightest to be recognised is always going to be worth doing.
This year, it brings us great pleasure to confirm a couple of new faces to our judging panel: with Eve Roodhouse (Leeds City Council) and Greg Wright (Yorkshire Post) returning, they will be joined by Rachel Skelton (Covea Insurance) who was the 2020 Leeds Digital Festival Awards' One To Watch, and Rashik Parmar MBE (IBM) who drives the firms EMEA technical strategy, as well as being appointed to the Leeds City Region Local Enterprise Partnership Board.
Our panel will be overseeing a range of categories, which are as follows for 2021:
Entrepreneur of the Year (sponsored by the University of Leeds)
For the business leader who inspires innovation with the drive to make ideas become a reality, driving their team to success.
One to Watch 2021 (sponsored by LITTLE)
For the team player with big ambitions who goes above and beyond to do themselves, their team and their company proud. This is an award for a team member up to Manager level, not a CEO.
Start-Up of the Year (sponsored by AD:VENTURE)
This award celebrates the hard work and success of tech and digital start-ups in Leeds and the city region who have shown the best innovations and/or company growth. Nominated companies will be incorporated after 2019.
Growth Company of the Year (sponsored by Marsh Commercial)
The award for the tech business showing the most growth in the last 12 months through their success, driving increases in headcount and / or turnover.
Tech4Good (sponsored by SCC)
The person, organisation or technology that is delivering positive change within communities or the environment and making the world a better place.
Best Tech Place to Work (sponsored by Crisp)
The company doing the most for their employees through training, development and innovative working practices in the tech / digital community.
Diversity and Inclusion Award (sponsored by Panintelligence)
This award celebrates those individuals, organisations or initiatives pushing the boundaries for diversity & inclusion in the tech community in Leeds. Please outline how you are changing Leeds for the better through inclusion for all in tech, and/or driving the diversity agenda.
2020-2021 Thrive Award (sponsored by BJSS)
The last 12-18 months have been 'different', shall we say. And whilst there have been significant challenges, some businesses have thrived. This award celebrates those businesses who have pivoted, grown their teams, impacted their markets or driven innovation to new heights in their sector during Covid times.
International Award (sponsored by Sedulo)
A new award for 2021, this award celebrates the Leeds tech business who have achieved significant success outside the UK. This could be launching a product into a new market or building a team in a different time zone to winning clients on a global scale. Tell us about your international success stories.
Nominations will close in a few short weeks on August 18th, so please do follow this link to ensure your choice is up for consideration. Each nomination will be discussed and considered by our judging panel, so there is every chance your words could see someone shortlisted for an award.
We look forward to sharing the shortlist for the Awards in August. Good luck to everybody entering!
Please note that this briefing is designed to be informative, not advisory and represents our understanding of English law and practice as at the date indicated. We would always recommend that you should seek specific guidance on any particular legal issue.
This page may contain links that direct you to third party websites. We have no control over and are not responsible for the content, use by you or availability of those third party websites, for any products or services you buy through those sites or for the treatment of any personal information you provide to the third party.