Ward Hadaway, in association with The Yorkshire Post, today reveals Yorkshire's Fastest 50 growing companies for 2021. The awards, which have been running for 11 years, recognise and celebrate the fastest growing, privately owned businesses across the region.
Based on financial data filed with Companies House which relates to the previous three years of trading, the 2021 Yorkshire Fastest 50 identifies some of the region's most successful businesses who bring prosperity to Yorkshire, providing employment opportunities for local people and attracting international investment too.
The 50 best performing companies which have consistently increased turnover whilst remaining profitable are ranked, with awards given to three different winner categories: small, medium, and large businesses. One of these winners is named as the overall fastest growing Yorkshire business for the year.  Click here for the Yorkshire's Fastest 50 for 2021 in ranked order.
Jonathan Pollard, a Corporate Partner at Ward Hadaway, said: "The world has changed so much because of the Covid-19 pandemic but we remain as passionate as ever about promoting and supporting the Yorkshire business community. We wanted to continue to recognise the success and entrepreneurial spirit of the region's businesses, both large and small, in this year's Yorkshire Fastest 50 Awards.
"The characteristics we're celebrating today are also qualities that every business needs as the economy begins the fightback to prosperity in the wake of Covid-19. Resilience, determination, optimism, innovation and energy – they are all vital to ensuring we overcome the continued challenges the impact of the pandemic presents."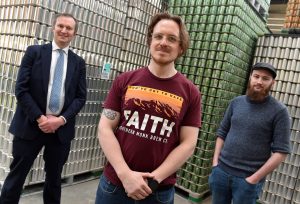 Food and drink companies are dominant this year and none more so than our overall winner. Taking the crown for the overall fastest growing Yorkshire business for 2021 is Leeds-based brewery, Northern Monk, which also tops the small business category.
Technology firm CSI Leasing UK takes the title for the fastest growing large business.
The third award winner is Batley-based van, truck and car hire business NL Commercial Holdings Ltd, winning the medium Yorkshire business category.
Russell Bisset, co-founder and managing director at Northern Monk, said: "We're absolutely delighted to be named the overall winner of Ward Hadaway's Fastest 50 growing companies in Yorkshire. It means even more to me, and every single member of the talented, dedicated and resilient Northern Monk team, to come top of the list during the extremely challenging year all Yorkshire businesses have experienced. For us, it demonstrates just how much our people are integral to the success of the business.
"They're invested in Northern Monk and have a very high level of personal responsibility for the way in which the business develops. To grow in such a turbulent environment is not just a relief, but a credit to the people behind Northern Monk. They're the reason why we've won this award, which is not only an honour, but also a reflection of the dynamism and entrepreneurialism that is alive and kicking throughout Yorkshire."
The region's manufacturing and engineering industries also performed particularly well in this year's list, with 20% of the Fastest 50 companies in these sectors. The construction industry also performed strongly, representing 12% of all companies, including Integra Buildings, Cyden Homes and D. Noble Ltd.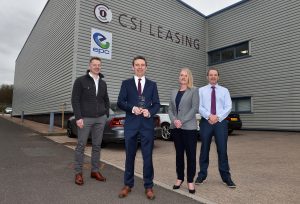 Of particular note are BJSS Limited, the Leeds-based business and IT consultancy, which deserves particular mention because 2021 marks their fourth appearance in the Fastest 50 list, as well as online anti-money laundering service provider SmartSearch, based in Ilkley, appearing for a third consecutive year.
Jonathan added: "The list this year represents a hugely diverse range of businesses flying the flag for innovation, resilience and the entrepreneurial spirit that is so vibrant and evident here in Yorkshire. Interestingly, over three-quarters of companies featured this year are new to the list – showing that with hard work, determination and the right decision making, companies can grow significantly in a short period of time.
"Congratulations to all those who appear in this year's Yorkshire Fastest 50 list. SMEs are a key part of our economy and will help fuel the UK economic recovery. The Fastest 50 are a shining example of those businesses that are doing great things for both our region and the country. As a firm, we continue to champion and support businesses throughout the region and we wish all businesses in Yorkshire the very best as restrictions begin to ease."
Due to Covid-19 restrictions, there is no awards ceremony this year.
Click here for the Yorkshire's Fastest 50 for 2021 in ranked order.
Please note that this briefing is designed to be informative, not advisory and represents our understanding of English law and practice as at the date indicated. We would always recommend that you should seek specific guidance on any particular legal issue.
This page may contain links that direct you to third party websites. We have no control over and are not responsible for the content, use by you or availability of those third party websites, for any products or services you buy through those sites or for the treatment of any personal information you provide to the third party.