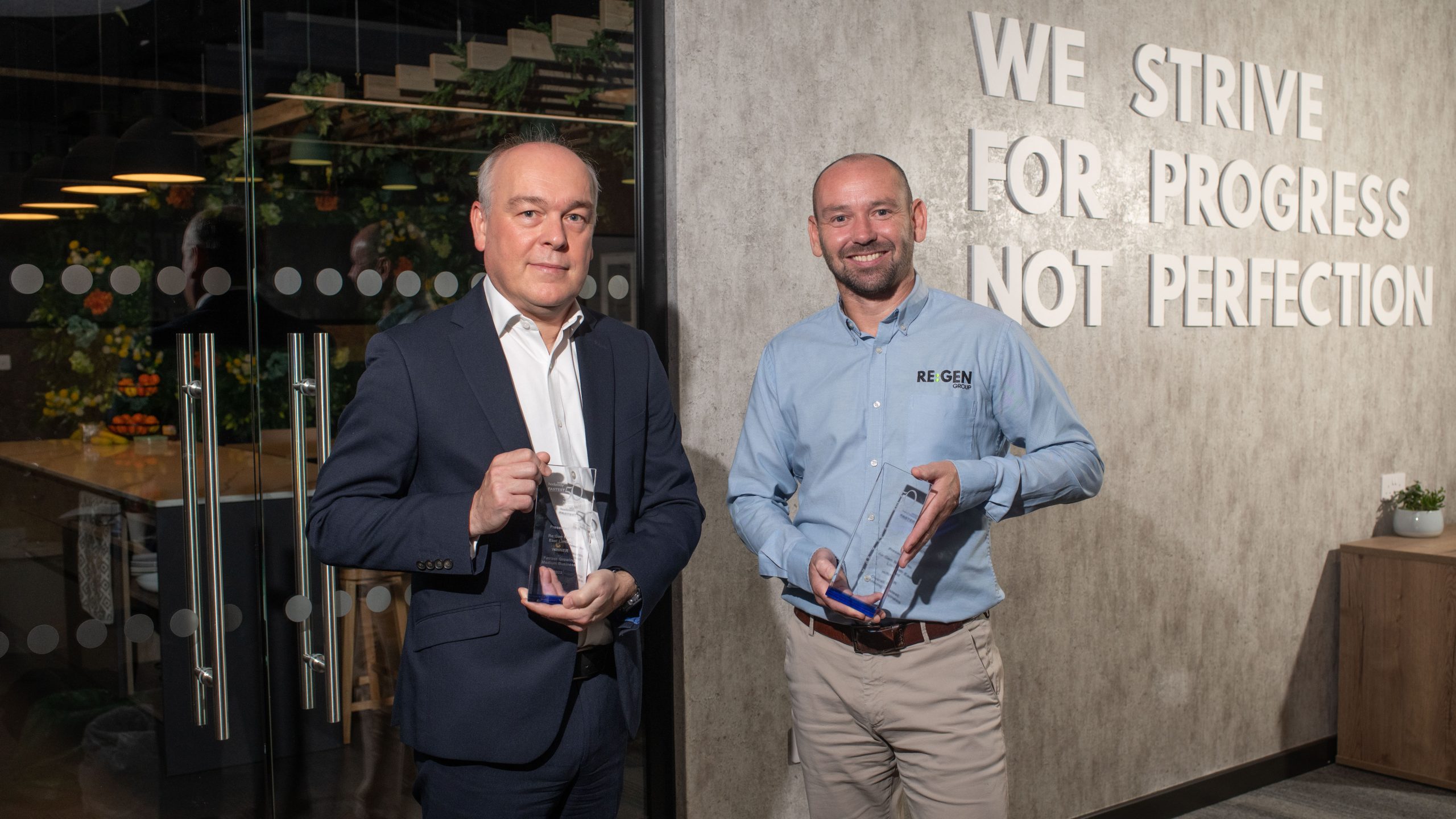 The Ward Hadaway North East Fastest 50 Awards celebrate the companies that have achieved remarkable growth, showcasing their entrepreneurial spirit and significant contribution to the region's economy. This year, the spotlight shone brightly on Sunderland-headquartered RE:GEN Group, which not only clinched the overall winner award but was also recognised as the fastest growing medium-sized business. We speak to RE:GEN's CEO Lee Francis alongside Ward Hadaway's Richard Butts to learn more about the organisation's path to success.
"It's always about your people – whether it's those you work with or work for – and how you cultivate your relationship with them and build a bond that's mutually beneficial," says Lee Francis, CEO of RE:GEN Group, which has established itself as one of the region's leading social housing partners, providing innovative and sustainable housing solutions across the North East. "Our aim is to become an invested partner for clients that genuinely cares about those we work with, challenging the norm through changing how things are done if they're not working for the client. A fundamental element of delivering this is to create a culture that people want to be a part of. And that's exactly what we've done which has become a blueprint for our continued growth."
And growth is something RE:GEN knows a thing or two about. In 2021 the company, led by an eight-strong leadership team including Lee, CFO Andrew McIntosh, COO Brinsley Sheridan and Group Commercial Director Michael Hodgkiss, quickly established strong partnerships with the region's key housing associations including Gentoo, Karbon Homes and Bernicia. By the end of the year, its turnover was £5 million, increasing to £40 million in 2022.
"A highly skilled, talented workforce is essential to our growth. Developing our people, and retaining them, is extremely important to us. This is why we have our own training provision and the RE:GEN academy. It means we can nurture our own talent and help our supply chain partners with skilled professionals too – we provide many job opportunities to residents of our housing association clients."

After working with training provider Geon to create a bespoke bootcamp approach to finding talent, Lee and the team realised the importance of growing your own talent from within the business. The six-week programme involved giving 10 individuals experience in a wide range of construction disciplines which would result in two people being offered an apprenticeship at the end.
"We ended up taking on six apprentices because we were blown away by the passion they showed," says Lee. "From there, we decided to invest in the training company, establishing RE:GEON Training which has evolved into our RE:GEN Academy to create a high quality, skilled workforce through a structured bespoke pathway for apprentices. And it's not just about nurturing breakthrough talent – we're focused on developing our people at every level. For example, we've recently invested £250k into middle and senior leadership development programmes to help support employees, as well as business growth."
RE:GEN is also focused on providing opportunities to all types of people regardless of their age, background or career history.
Lee explains: "We've got a 30-year-old former bus driver employee who completed our bootcamp programme and became an apprentice site manager. He took a pay cut to join us but now earns 40% more than he did and has a long and lucrative career ahead of him. Talent isn't a tick box exercise that exists within a specific cohort of people – it comes in many forms."
The organisation's continued commitment to people was highlighted earlier this year when construction company Tolent went into administration. RE:GEN created new roles for 24 employees who were able to secure jobs following redundancy.
Richard Butts, a partner at Ward Hadaway, said: "RE:GEN Group has done incredibly well in a short space of time within a fast paced industry. The organisation's approach to building a business is excellent and it has a great model for talent development, providing opportunities across the board. The company's recognition as the fastest growing business at this year's Fastest 50 demonstrates the significant impact they're making in the sector. Huge congratulations to the team."
Based in Doxford Park, Sunderland, the Group is set to exceed the £60 million turnover mark by the end of the year and currently has 204 employees. Its headquarters is an 8,942 sq ft modern office space over two floors that's in close proximity to clients.
Lee adds: "As a business leader, you must remember it's about progress, not perfection. Whatever industry you're in, if things aren't working you need to try a different approach. Only in this way will the business continue to adapt, evolve and, crucially, grow."
Please note that this briefing is designed to be informative, not advisory and represents our understanding of English law and practice as at the date indicated. We would always recommend that you should seek specific guidance on any particular legal issue.
This page may contain links that direct you to third party websites. We have no control over and are not responsible for the content, use by you or availability of those third party websites, for any products or services you buy through those sites or for the treatment of any personal information you provide to the third party.