If you're planning on growing, scaling or selling your business, preparation is key to attracting investment, advises Adrian Ballam, Partner in Ward Hadaway's Corporate Team, and Will Clark, Fund Principal for Northern Powerhouse Investment Fund at Mercia Asset Management, ahead of the Yorkshire Fastest 50 Awards.
"It's not always easy, but the companies I've seen effectively grow and prosper over the years, attracting investment or selling successfully, have all had one thing in common – forethought," says Adrian.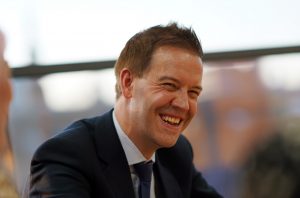 "Setting up your business in the right way, having robust processes and procedures in place and good financial management, all lead to credibility and trust when it comes to selling or attracting investment. It's not always the business idea itself that investors buy into, but a demonstration of good planning, organisation and a robust growth strategy.
"Getting advice upfront from professionals like corporate finance experts, and reputable accountants and solicitors is also important. I've seen successful companies come unstuck later down the line when they've been looking to restructure, all because they clicked the wrong button when they were setting up online via Companies House.
"These things may seem simple, but it's always prudent to be fully informed from the start, or you could run into serious trouble later down the line."
Adrian and Will have both seen the landscape for investment in Yorkshire change significantly in the past ten years and more change is ahead in the next decade.
"When I look out of the window here at Wellington Place, where Ward Hadaway is based, I see buildings going up everywhere. It feels like this decade is starting more positively than the previous one. Leeds remains a hub for enterprise and you can see a lot of money is being invested in infrastructure and buildings, where professional service businesses and creative industries are basing themselves.
"More broadly within the region, it is manufacturing that is driving investment, and I do think that some investors very much like to place funds in something tangible, a physical product they can see and touch."
Will adds; "The investment landscape has seen several new investors coming into Yorkshire and the M62 corridor in the last five years, so this makes it a great time to be raising money to either start or grow a business. With the state-of-the-art infrastructure that exists across the region, including Nexus in Leeds, AMRC in Rotherham, DMC in Barnsley and C4Di in Hull, there are endless opportunities for ambitious Yorkshire-based entrepreneurs.
"The availability of funding is exhibited through the British Business Bank's Northern Powerhouse Investment Fund which is partly managed by Mercia and which has been designed specifically to support and invest into early stage and scale up businesses across Yorkshire. The funding ecosystem has been enhanced with new investors opening offices within the region and this should ensure that there are sufficient local follow-on funding options available for those innovative high growth Yorkshire based businesses which need to access further capital over the next five to ten years."
It might seem cliched, but Adrian says Dragons' Den provides a fair reflection of the types of questions you can expect to be asked by investors, should you seek funding.
"You won't get through the door without knowing your numbers and having them documented. Ensuring all your business affairs are in order is vital, because investors will do their due diligence. You have to evidence everything you claim, so have that mindset from inception if you want to maximise the value of your business or attract funding."
Will continues; "Develop a clear, realistic plan which explains how they will manage their resources.  Being able to articulate this with clarity is always a great place to start for any entrepreneur on a growth journey.  What's even more encouraging, is the support which is available across Yorkshire to help entrepreneurs prepare for investment. In addition to the advisory firms based across the region, the universities, innovation centres and the local growth hubs run by the LEPs can all provide excellent advice and collateral."
Usually, investment is sought at a critical stage in the life of a business, when there is a need to buy new equipment, premises, skills or people to drive the company forwards. At this stage it is worth considering what type of investor is most suitable and again, seeking professional advice on how to attract the right investor for your business.
"There are traditional investors such as banks and private equity houses, but there are other options. In recent years Business Angels and Investment Clubs have helped finance projects under £2million. There's also the Crowd Funding route, which didn't exist ten years ago, but at present this is an unregulated and evolving source of funding.
"It's important, whichever route you take, that you are fully aware of what you are committing the business to, and that it is likely to have a significant impact on your company, not only from a financial perspective. Investment can sometimes be a painful process, particularly for owner-managed businesses, because there is often a cultural shift required and they can no longer make decisions entirely on their own terms."
Here are Adrian's top tips for securing investment:
Get your house in order as early as possible in the life of your business. Ensure your processes, procedures and financial planning is thoroughly documented and organised – it will inspire confidence in potential investors.
Have a vision and narrative for your business that can be easily understood by employees, suppliers and potential buyers or investors. Believe in it and use it to drive your business forward.
Seek professional advice as early as possible –from reputable professionals with a proven, evidenced track record.
If you're seeking investment or support for any area of your business, call Adrian in the corporate team on 0330 137 3639 or 07732 688264 or email him at adrian.ballam@wardhadaway.com.
Please note that this briefing is designed to be informative, not advisory and represents our understanding of English law and practice as at the date indicated. We would always recommend that you should seek specific guidance on any particular legal issue.
This page may contain links that direct you to third party websites. We have no control over and are not responsible for the content, use by you or availability of those third party websites, for any products or services you buy through those sites or for the treatment of any personal information you provide to the third party.