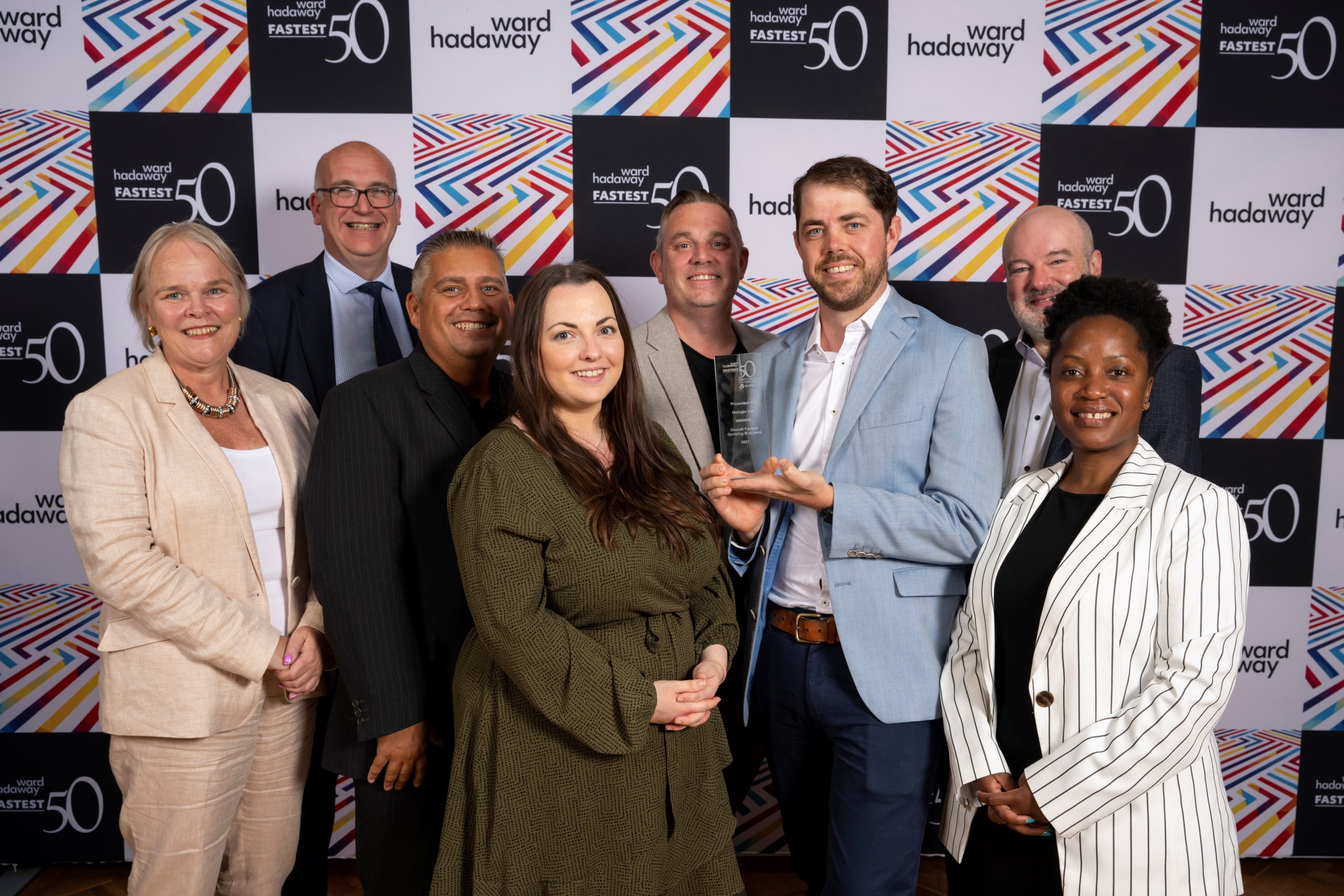 We are delighted to announce this year's North West Fastest 50 growing businesses, hosted by Manchester law firm Ward Hadaway and supported by Greater Manchester Chamber of Commerce.
The Ward Hadaway North West Fastest 50 is an annual awards event that recognises and celebrates the fastest growing businesses in the North West. 2023's top 50 businesses were officially revealed at a prestigious award ceremony on Friday 9 June which saw winners of the large, medium and small business categories, as well as the overall winner, awarded.
The event, attended by regional entrepreneurs and business leaders, included a keynote speech from William Lees-Jones, managing director of family-run Manchester-based brewery JW Lees, which employs 1,500 people. William shared his experience as managing director of one of the region's most recognised breweries in today's challenging trading environment. His keynote included references to the unique circumstances experienced by family-owned businesses through the generations.
Liz Bottrill, executive partner in Ward Hadaway Manchester's office, also spoke at the event alongside Paul Johnson, a partner in the corporate team. She said: "It was a privilege to stand in front of so many thriving North West businesses and praise the incredible work they're doing, the big steps they're taking and the hugely positive impact they're having on the region's development. From attracting investment to increasing job opportunities for local workforces, their innovation, resilience and tenacity tell a fantastic story of how to grow a business during prolonged turbulence. As well as celebrating growth, the North West Fastest 50 serves as a source of inspiration for entrepreneurs across the region, with businesses from a diverse range of industries making bold and brave moves along the path to success. It was a brilliant afternoon and every single business who has appeared in the top 50 should feel immense pride in their achievements."
The Fastest 50 awards consist of three categories – large, medium and small – with the winner of each category being awarded, before one of them is crowned the overall fastest growing in the North West.
Medical technology manufacturer and supplier Hologic was a double winner at the event, taking home the award for overall fastest growing business of the year and the fastest growing large business. The company, which develops diagnostic products, medical imaging systems, and surgical products dedicated to championing women's health, has achieved an average turnover growth of nearly 120% in the last three years.
James O'Sullivan, site director at Hologic, said: "It's an absolute delight to win two awards today not just in the large category but for the overall fastest growing business in the North West. We're driven by a passion and purpose to enable healthier lives, everywhere, every day and it's amazing to be recognised for the vital work we do to help healthcare professionals provide quality, person-centred care. We can't quite believe we're the overall fastest growing business in the region – we're thrilled."

Apparel Brands won the trophy for medium sized business of the year. The clothing retailer was the 10th fastest growing business overall with a 77% increase in average turnover growth.
Apparel Brands, based in Manchester, design, source, market and sell clothing from well-known brands such as Bench, NICCE, Farah and Ed Hardy.
Talking about their win, Peter Wood, CEO of Apparel Brands, said: "What a great achievement to be named the fastest growing medium sized business of 2023. It is a testament to the hard work, dedication, and passion of our entire team. We are grateful for the recognition of our growth and the trust our customers and partners have placed in us. This award motivates us to continue to innovate as we shape the future of the apparel industry."
Waving the flag for the region's small business community was Jamieson Contracting, a family run construction company that won the award for the fastest growing small business of the year.  Managing director Andrew Jamieson said: "Winning the fastest growing small business award is a proud moment for our family-run company. Our success is down to the talent and dedication of our incredible team and it's brilliant to be recognised for our hard work."
The list is based on Companies House data that relates to the previous three years of trading. 2023's Fastest 50 growing businesses boast a total combined turnover of nearly £6 billion and an average turnover growth of 55% in three years. This continued growth despite the prolonged economic downturn demonstrates the strength of entrepreneurial spirit in the North West and a willingness to take calculated risks which has contributed to their success in a challenging economic environment.
The growth also highlights the strength of specific sectors in the North West region. Overall, 14 retail and wholesale businesses appeared in the list, illustrating the retail prowess of the region. Construction, manufacturing and real estate accounted for 12% of the companies revealing that businesses cross-sector are managing to weather the economic challenges and drive overall growth.
Liz continued: "The success of North West businesses is phenomenal.  Every business involved in making the economy stronger, creating more jobs and attracting more investment, should feel thoroughly proud of their hard work and dedication. This year's Fastest 50 list is truly remarkable given the times we're living through – and a wonderful way to celebrate its 10th year anniversary. The future holds boundless opportunities, and I have no doubt that the North West businesses will continue to lead the way. Congratulations to you all."
Chris Fletcher, Policy, Campaigns and Communications Director at the Greater Manchester Chamber of Commerce, concluded: "It was a great honour for the Chamber to once again partner with Ward Hadaway on the North West Fastest 50. This year felt extra special after a four-year break to get back together in person with some of the region's very best businesses and celebrate their success and efforts. As the UK's largest Chamber being involved with this award is fantastic and it's great to play a part in celebrating the best that business in the North West has to offer."
Please note that this briefing is designed to be informative, not advisory and represents our understanding of English law and practice as at the date indicated. We would always recommend that you should seek specific guidance on any particular legal issue.
This page may contain links that direct you to third party websites. We have no control over and are not responsible for the content, use by you or availability of those third party websites, for any products or services you buy through those sites or for the treatment of any personal information you provide to the third party.