In our series 'Inspiring Growth in Yorkshire', we, along with The Yorkshire Post Deputy Business Editor Greg Wright, talk to companies leading the way in the region. This week we speak with the winners of the Ward Hadaway Yorkshire Fastest 50 Awards for 2021, Northern Monk Brewery.
Alongside Jonathan Pollard, Corporate Partner at Ward Hadaway, this week we talk to Northern Monk Brewery, the overall winner of Ward Hadaway's Yorkshire Fastest 50 2021. The Yorkshire Fastest 50 – revealed here last week – recognise the fastest growing most profitable, privately owned companies in Yorkshire.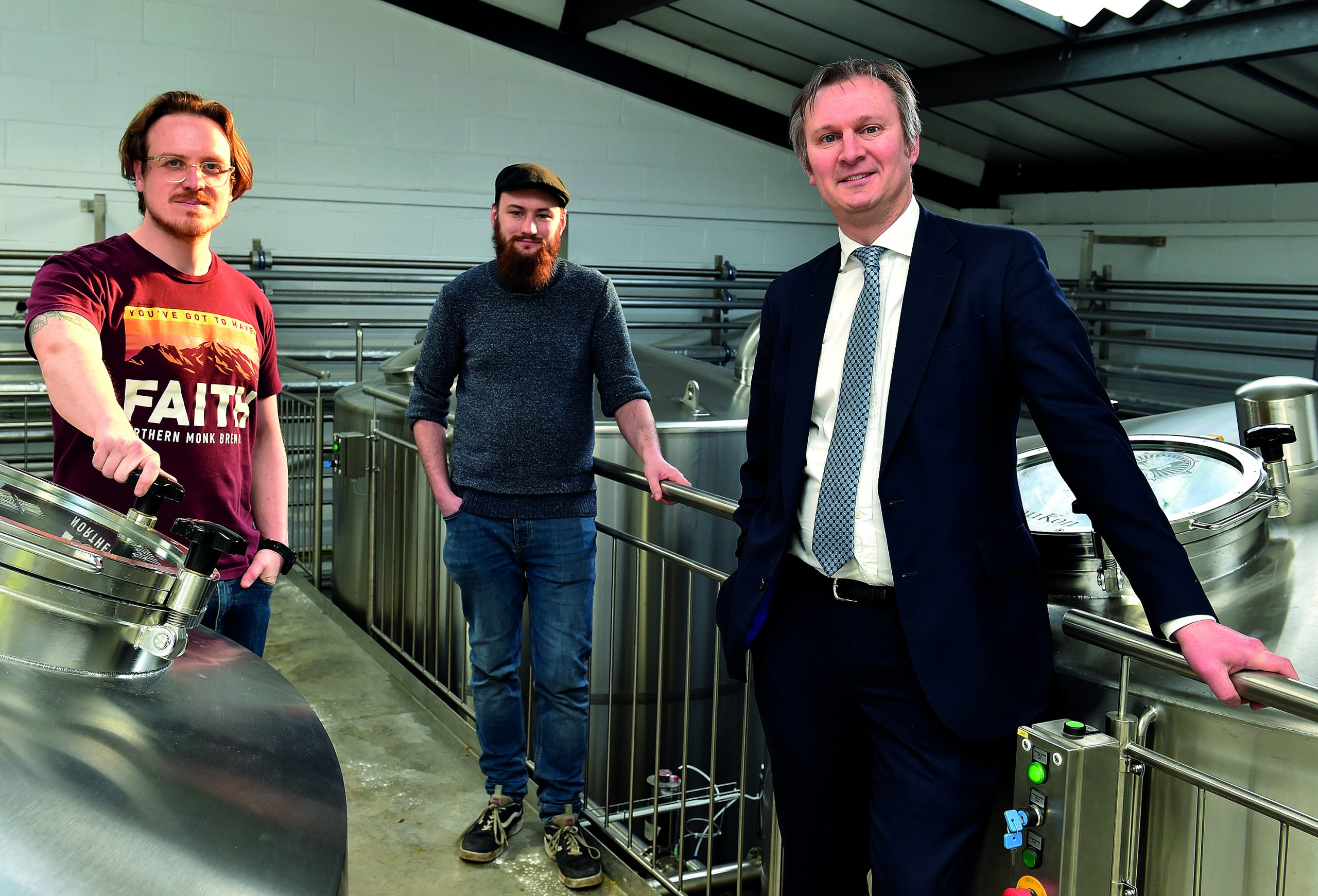 "When you start from such humble beginnings, I think you always retain a tenaciousness and a desire to succeed even when faced with extraordinary challenges," says Managing Director Russell Bisset, who founded Northern Monk in his mother's cellar in 2013 alongside Brian Dickson, the company's Head Brewer.
"Our vision is clear. We want to create the best beer experiences in the world. And while people may think that's about high-end boutique ale for beer aficionados, it's a lot simpler than that. The best beer experience can be enjoying a pint of crisp lager on a Sunday afternoon in great company. We recognise the whole spectrum of the beer experience which has been fundamental to our success."
Following a small investment from a family friend, Northern Monk secured its first premises in 2014. It wasn't long before a bigger facility was needed. To enable this next phase of growth, Bisset decided to crowdfund. It was the right decision. Northern Monk became the most successful crowdfunded brewery in history, raising an astonishing £1.5 million in just under two weeks. Today, Northern Monk's primary production facility is a 10,000 Sq ft site that boasts not only their state-of-the-art brew kit, but will soon include a skate park, a CrossFit gym, an on-site Refectory and even a walking meeting track for its dedicated workforce, once the current works are complete.
As well as having a distinct vision of what it wants to achieve, another pivotal factor in the brewery's success has been its approach to employee wellbeing. Northern Monk was listed in the prestigious Sunday Times 100 Best Small Companies to Work For in 2020.
Bisset explains: "Our team are our brand heroes; they own the narrative of Northern Monk's story. Without them, we wouldn't be where we are today. As a leader, it's so important that my employees recognise that they're the people making the company's success happen. We empower them as much as we can and celebrate victories, however small, across the entire workforce. Our supporting culture goes back to the origins of the business. When we first started, so many people were offering to help and provide services for free to get us up and running. We want to foster that community spirit – it's part of Northern Monk's DNA."
Jonathan Pollard, a Corporate Partner at Ward Hadaway, explains why Northern Monk's determination and dynamism combined with an empathy-based ethos has seen the brewery become this year's fastest growing company in Yorkshire.
Jonathan said: "Northern Monk is a great example of a young, thriving company that's flying the flag for Yorkshire's business community with a fresh and energetic approach. Combined with an unrivalled ambition to not just become the UK's leading brewery, but a great employer too, the company has demonstrated why employee engagement is vital to the growth and prosperity of any business.
"They value their employees immensely and invite them to further grow the company together. That encourages productivity and a supportive culture. This approach has created a commitment to succeed that runs deep across the business – the perfect recipe for long-term, sustainable success."
While the pandemic saw the brewery take a different direction to the one planned, it's grown steadily in the last 12 months, adding 15 people to its workforce. The company has been able to enjoy success, Bisset says, because the whole team is dedicated to the Northern Monk cause and has a genuine influence on the direction the business takes, sharing creative ideas and helping the brewery constantly evolve.
Bisset adds; "Covid-19 has been our hardest test yet but the team have been excellent and we've adapted well. We've focused more on our direct-to-consumer market and we also partnered with Tesco to get our beer on shelves. Our growth in online sales has been astronomical, with our direct-to-consumer sales increasing by 325%. We've also collaborated with some of Yorkshire's most innovative and progressive brands including Aunt Bessie's, where we created a roast dinner in a can, and Yorkshire Tea to celebrate Yorkshire Day. The region is brimming with talented, energetic companies and the success many have experienced in one of the toughest years in history is testament to the resilience, unique character and undeniable talent of Yorkshire businesses."
This article originally appears in The Yorkshire Post on 30 March 2021.
You can find full details of the Yorkshire Fastest 50 awards here.
Please note that this briefing is designed to be informative, not advisory and represents our understanding of English law and practice as at the date indicated. We would always recommend that you should seek specific guidance on any particular legal issue.
This page may contain links that direct you to third party websites. We have no control over and are not responsible for the content, use by you or availability of those third party websites, for any products or services you buy through those sites or for the treatment of any personal information you provide to the third party.