Divorce can be a difficult and emotionally challenging time, that will often involve the division of assets between spouses. In any divorce process, each of the partners has a legal duty to make full financial disclosure of all of their assets.
However, some attempt to hide some or all of their assets in an effort to keep more for themselves following a divorce.
In this guide, we will review what are hidden assets, what are the penalties for hiding assets and what to do if you suspect your ex-partner is hiding assets.
What are hidden assets?
When one party withholds or undervalues assets in order to prevent their fair division throughout the divorce process, this is referred to as "hiding assets in a divorce."
Unreported income, offshore accounts, concealed investments, undervalued enterprises, and homes given to family or friends are just a few examples of hidden assets. These strategies are used by those who want to keep more of the estate than they are perhaps legally entitled to. Such actions violate the fairness and openness tenets that are essential to the divorce process.
It is important to note that the court can set aside a divorce settlement if it is found that one party has hidden assets during the divorce process. If one party suspects that the other is hiding money or assets, they can apply to the court for a freezing order or a court order to disclose the relevant financial information.
What are the penalties for hiding divorce assets?
Hiding assets during divorce is almost guaranteed to complicate and delay reaching a financial settlement. The legal system recognises the seriousness of hidden assets in divorce cases and has implemented a number of measures to tackle this issue.
Firstly, both parties are obligated to complete financial disclosures, providing complete and accurate information about their assets, income, and liabilities. This disclosure is a necessary step towards guaranteeing transparency and fairness in divorce proceedings. In addition to financial disclosure, the courts have the authority to require a variety of other investigative techniques. For example, forensic accounting, in which financial professionals examine financial records and transactions to find concealed assets. The goal is to guarantee that both parties have access to all pertinent financial information, allowing for a more equal asset distribution.
If it is revealed that one of the parties has concealed assets, the court may impose a variety of penalties. This might include being required to pay court fees as well as the harmed party's, as well as being held in contempt.
If it is discovered, that one of the parties has hidden assets, the court could choose to impose a number of punishments. This could range from being ordered to pay court fees and that of the wronged party to being held in contempt.
What to do if you suspect your ex is hiding assets?
If you believe that your ex is hiding assets in your divorce proceedings, you should not attempt to investigate this yourself as you could find yourself subject to civil and criminal penalties as the law is extremely complex in this area.
If you believe that your spouse has not been forthcoming with their finances, we recommend that you seek early legal advice from our team of specialist divorce solicitors who are experts in divorce and financial proceedings.
If a financial court order has been made and you later discover that your ex-partner hid the money, you can ask for the order to be changed so that it is fair to you.
How can Ward Hadaway's divorce solicitors help?
Our specialist Divorce Solicitor expertise, financial acumen, and investigative skills help clients address hidden assets. By providing sound legal advice, Ward Hadaway ensures that your rights are protected during even the most complicated divorce proceedings. By working closely with divorce solicitors, individuals can increase their chances of uncovering hidden assets and achieving a just outcome in their divorce proceedings.
Our specialist Divorce Solicitors at Ward Hadaway can support you through these challenging times. If you're seeking legal advice as a cohabiting couple regarding your legal rights and protections, then reach out to our experts who can advise you to ensure you and your partner have the protection you need. For further information, please get in touch.
If you would like support or advice about any of your family circumstances, please complete the form below and a member of the team will be in touch to find out more.
Please note that this briefing is designed to be informative, not advisory and represents our understanding of English law and practice as at the date indicated. We would always recommend that you should seek specific guidance on any particular legal issue.
This page may contain links that direct you to third party websites. We have no control over and are not responsible for the content, use by you or availability of those third party websites, for any products or services you buy through those sites or for the treatment of any personal information you provide to the third party.

Follow us on LinkedIn
Keep up to date with all the latest updates and insights from our expert team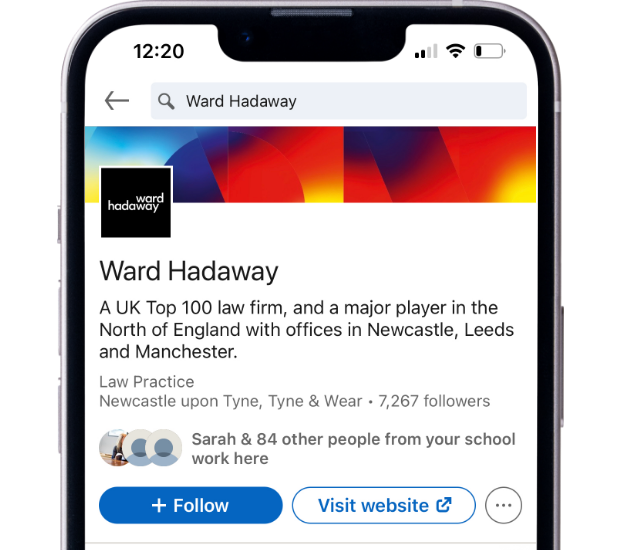 What we're thinking
In a team comprising Adam Beaumont (Counsel), Stephen Radcliffe, Joe Mills, Sam Slater and Josh Wood, Ward Hadaway's construction offering in Leeds have succeeded in enforcing an adjudicator's award in the Technology and Construction Court whilst concurrently resisting a stay of enforcement.

The Employment Appeal Tribunal (EAT) has recently considered a series of complaints relating to the menopause. Claims relating to the menopause often include allegations of discrimination on the grounds of age, sex and/or disability. In this case, a Tribunal upheld the disability discrimination claims.

Even though it is some time since the lockdown came to an end, Tribunals have dealt with a number of cases relating to the way in which Covid is dealt with in the workplace. Two cases this year illustrate the Tribunals' approach.

Following the widely publicised news regarding school closures due to crumbling concrete, it is vital for the Social Housing industry to get ahead of the concrete 'crisis' by tackling the issue quickly and efficiently.

In 2014 the Equality and Human Rights Commission (EHRC) first published guidance for schools to help them comply with their duties under the Equality 2010.

Our Local Authority round up provides brief summaries of topical information on a weekly basis, to keep you aware of the changes and updates relevant to you.

The Workers (Predictable Terms and Conditions) Act 2023 was passed last week, and will create a new right for many casual, agency and zero hours contract workers when it takes effect (which is expected to be in September 2024).

We recently held our Guidance for Governors: Dealing with the disciplinary and grievance process webinar.