Ward Hadaway hosts South African leaders and North East businesses as part of three-day trade mission
Follow us on LinkedIn
A delegation of South African senior politicians and business chiefs met with North East businesses this week as they embarked on a trade mission in the region. The delegation has worked with Newcastle-based business consultancy Stephenson-Mohl Group to arrange the three-day visit to establish business links and potential investment opportunities.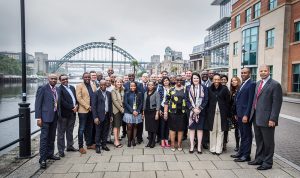 An event at Ward Hadaway's Newcastle Quayside office on June 6th saw representatives from over 40 North East firms meet with senior delegation members, including the Mayor of Durban as well as bosses from some of South Africa's most prominent businesses.
The Mayor of Durban, Councillor Zandile Gumede, led the delegation, engaging in discussions around key sectors including education, tourism, energy and leisure.
Mayor Gumede said: "South Africa enjoys a particularly warm relationship with this part of the world, and we are keen to use this visit to ensure we continue the momentum gained between the two localities, with a view to developing additional benefits for our businesses.
"The delegation is keen to explore investment opportunities for North East businesses in South Africa, as well as to trade in goods across many industries and sectors."
The delegation included a number of high-profile South African visitors from the Kwazulu-Natal Province; including Member of the Executive Council (MEC) for Finance Belinda Scott who addressed attendees at the event, outlining the range of scope of investment opportunities in the region.
Other key members of the delegation include: The City Manager of eThekwini Municipality, members of the Durban Chamber, Executive Director of Grindrod Bank, and representatives of Dube Trade Port.
The three-day visit featured roundtable and networking events in Newcastle, Tees Valley and County Durham, with senior regional business leaders and politicians, including Andrew Selous MP, the Prime Minister's trade envoy to South Africa, and representatives from the Department for International Trade.
Stephenson-Mohl Director, Mark Stephenson, said: "The visit will help put the North East in the shop window. This region has so much to offer the world and our firms must look to cement relationships in markets they have yet to explore. This trade mission is as much about helping our businesses sell overseas, as it is about attracting South African companies to the North East."
He added: "This delegation represents huge opportunities for trade and investment. It builds on President Ramaphosa's recent speech at the Commonwealth Summit, which spoke of South Africa's determination to energise its economy, strengthen trade ties and significantly increase levels of foreign direct investment.
"We have helped devise an agenda for the trade mission in the region that puts people with mutual beneficial interests in the same room. There are many sectors that thrive in both the North East and in South Africa, and it makes sense for them to work together."
Mark Whitehead, a consultant with the Company and Commercial team at Ward Hadaway, said: "As lawyers representing a variety of clients involved in import and export activity, we are very aware of the need for the region to develop strong trading relations with a variety of global markets. The event is all about showcasing ingenuity and talent on offer in the region's business community, as well as creating a forum for businesses to meet and share experiences.
"The President of South Africa, Cyril Ramaphosa, has challenged business leaders in his country to go out and explore opportunities overseas. I can guarantee the delegation will enjoy a warm welcome here."
There was also time for the visitors to sample a host of the local cultural attractions. On Tuesday evening the delegation attended a welcome reception at Newcastle's historic namesake, the Castle Keep and they also joined local businesses at Durham Cathedral on Wednesday.
Please note that this briefing is designed to be informative, not advisory and represents our understanding of English law and practice as at the date indicated. We would always recommend that you should seek specific guidance on any particular legal issue.
This page may contain links that direct you to third party websites. We have no control over and are not responsible for the content, use by you or availability of those third party websites, for any products or services you buy through those sites or for the treatment of any personal information you provide to the third party.