TV and consumer electronics maker Hisense UK put itself in the picture with a double win at the Ward Hadaway Yorkshire Fastest 50 Awards 2017.
The Leeds-based company won the awards for Fastest Growing Large Business and Overall Fastest Growing Business at the event, which recognises and celebrates the fastest growing privately-owned companies across Yorkshire.
Hisense UK is the British arm of Chinese multinational Hisense Company Ltd, one of the world's largest electronics and consumer goods manufacturers. Its products include televisions, refrigerators, freezers, laundry units, tablet computers and mobile phones.
Hisense UK was only established in Leeds in 2012 but rose to the top of this year's list of fast-growing businesses with an average turnover growth of 104.5%.
Howard Grindrod, Deputy Managing Director at Hisense UK, said: "This is a great honour.
"We know that we have grown rapidly as a company but we really didn't expect to win and to be honoured in this way in our local community.
"It's very good to be acknowledged in this way and it's a very important thing for our corporation as well because although we are a global company, it's important for us to be recognised locally and be seen as a support of the communities in which we are based.
"We are a company which is growing rapidly and we are a global brand. To do that, you have to operate in a lot of countries and you have to be a part of those countries."
Hisense UK won the Fastest Growing Large Business award – for companies with annual turnover of more than £15m – ahead of Pontefract-based multi-discipline construction company Harris Construction Management in second place and Huddersfield-based Patrick Construction Group in third place.
Hisense UK was not the only winner at the awards, organised by Top 100 UK law firm Ward Hadaway and supported by The Yorkshire Post.
Sheffield-based IT company Azzure IT was named the Fastest Growing Small Business in Yorkshire for 2016 – the category for companies with annual turnover of between £1m and £7.5m.
The company is rated by software giant Microsoft as the leading Microsoft Gold Partner in the UK and has also launched its own IT training skills academy to mentor and train people.
Craig Such, Managing Director and owner at Azzure IT, said: "It was a great achievement to get into the Yorkshire Fastest 50 list but to win the small business category is a massive surprise to us.
"We appreciate how successful we have been and that's all down to our staff and our loyal customers. We are very, very pleased to win this award."
Second place in the Fastest Growing Small Business category went to Hull-based waste management, recycling, composting and skip hire company Wastewise, while green energy supply and management company from South Newbald, Manco Energy, took third place.
Fit-out and construction services specialist headoffice3, from Pudsey, won the award for the Fastest Growing Medium-Sized Business, for companies with annual turnover of between £7.5m and £15m.
The company, which provides a range of services to the schools, commercial and residential sectors from initial design to final execution, has worked on recent projects including a design and build of new offices in Wetherby and a Leeds regional office for car rental company Enterprise.
Glenn Harding, CEO at headoffice3, said: "It was quite a surprise to win.
"I think the key to our success is that we are very passionate about customer service and fanatical about sales."
Headoffice3 won the award ahead of Harrogate-based bathroom equipment manufacturer Abacus Direct and Leeds-based Xiros, which designs and manufactures pioneering medical devices.
The winning companies and the runners-up were revealed before an audience of more than 200 people, including Fastest 50 company representatives and Yorkshire business leaders, at Aspire in Leeds on Friday 20 March.
Larry Gould, CEO and founder of Leeds-based translation company thebigword, was the special guest at the event and gave the keynote speech.
In a highly entertaining speech, Mr Gould spoke about his business life, having started out as a retail apprentice at Debenhams in Leeds at the age of 15, and how he has built up Leeds-based international translation technology business thebigword.
He talked about the importance of selling to every business and how there were many opportunities across the world for companies to take advantage of.
Extolling the virtues of Leeds, Yorkshire and the UK as a place to do business, Larry said: "We are not in Leeds as our HQ for nostalgia. It is because this is an absolutely great place to run a global company from."
The Yorkshire Post Deputy Business Editor Greg Wright introduced the awards, which reward profit-making privately-owned companies and organisations in the region which have shown the strongest annualised sales growth over recent years.
Ward Hadaway Commercial Partner Philip Jordan talked about the firm's involvement in the awards, which were first held in Yorkshire in 2011, and about Ward Hadaway's growth in Yorkshire, including the firm's recent move to new offices at Wellington Place in Leeds.
Jamie Martin, Managing Partner at event organiser Ward Hadaway, said: "This is the seventh time which we have held these awards and they never fail to be inspiring, uplifting occasions that really bring out what's best in Yorkshire business.
"The award winners and indeed every business which is in this year's Ward Hadaway Yorkshire Fastest 50 list has performed tremendously to achieve outstanding profitable growth in their companies.
"As a Northern law firm for national business with offices in Leeds, Manchester and Newcastle, it is terrific to see so many companies doing so well and driving the region's economy forward.
"The ambition, determination and dedication that they have demonstrated are precisely the qualities which are helping to create prosperity and bring jobs and investment to Yorkshire."
The Ward Hadaway Yorkshire Fastest 50 2017 roll of honour
Fastest growing small business
Winner: Azzure IT, Sheffield
2nd place: Wastewise, Hull
3rd place: Manco Energy, South Newbald
Fastest growing medium-sized business
Winner: headoffice3, Pudsey
2nd place: Abacus Direct, Harrogate
3rd place: Xiros, Leeds
Fastest growing large business
Winner: Hisense UK, Leeds
2nd place: Harris Construction Management, Pontefract
3rd place: Patrick Construction Group, Huddersfield
Overall fastest growing business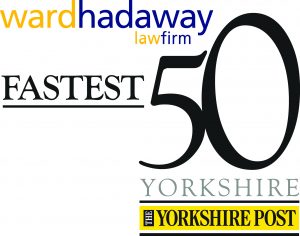 Winner: Hisense UK, Leeds
* Find out more about the Fastest 50 Awards.
Please note that this briefing is designed to be informative, not advisory and represents our understanding of English law and practice as at the date indicated. We would always recommend that you should seek specific guidance on any particular legal issue.
This page may contain links that direct you to third party websites. We have no control over and are not responsible for the content, use by you or availability of those third party websites, for any products or services you buy through those sites or for the treatment of any personal information you provide to the third party.