Double win for Silven Recruitment at Ward Hadaway Greater Manchester Fastest 50 Awards
Follow us on LinkedIn
PEOPLE power was the order of the day at the Ward Hadaway Greater Manchester Fastest 50 Awards 2016 with recruitment specialist Silven Recruitment winning two awards.
The Manchester-based company won the awards for Fastest Growing Small Business and Overall Fastest Growing Business at the event at the Museum of Science and Industry in Manchester.
Silven Recruitment was only set up in 2012 but has grown rapidly since then, specialising in supplying staff for clients in the food and drink and legal services sectors.
The company also provides interim managers to the food industry, including operational, technical, engineering, development and commercial roles.
Its clients include the likes of Coca-Cola, Morrisons and the Hain Daniels Group.
Ian Simkins, Managing Director of Silven Recruitment, said: "We were pleased to make it into the final 50 to start with so to one award was a shock but to win two is unbelievable – we are made up and chuffed to bits.
"I think the success we have had is due to the people we have and the passion and enthusiasm for the sectors we are recruiting in.
"I don't think you can be successful unless you are passionate and enthusiastic about your work and in our case, in our clients and our candidates.
"We have got some quite exciting growth plans which we are trying to implement. We have brought in a number of new people this year and we have a very clear structure we are trying to achieve. We are keen to bring in talent as quick as we can to the business and to continue our growth."
Silven Recruitment fought off stiff competition from Manchester-based property portfolio company Patrick Properties and Bolton-based recruitment business Labour 24/7/, who were second and third respectively, to win the Fastest Growing Small Business award, for companies with an annual turnover of between £1m and £5m.
Silven Recruitment was not the only winner at the awards, organised by law firm Ward Hadaway in association with the Manchester Evening News/Greater Manchester Business Week.
LSE Retail Group Limited was named as the Fastest Growing Medium-Sized Business, for companies with an annual turnover of between £5m and £15m. An online retailer of lighting for the home which sells products under the Minisun brand name, the Salford-based company was runner-up in the same category in the 2015 Ward Hadaway Greater Manchester Fastest 50 but went one better this year.
LSE Retail Group won the title for Fastest Growing Medium-Sized Business ahead of second-placed IT staffing specialist Venturi Group and third-placed Kooltrade Ltd, which supplies over 500 independent nursery retailers with a range of products.
Acrobat Carbon Services was named Fastest Growing Large Business for 2016, for companies with an annual turnover of more than £15m.
The Manchester-based company specialises in creating and delivering carbon and energy efficiency-based schemes for energy companies to help them achieve their obligations. Acrobat also works with installers, landlords and householders.
Kevin Griffin, Managing Director of Acrobat Carbon Services, said: "We are really proud to win this award and of the work we do which is delivering energy efficiency to homes that are needed the most. We help some of the poorest people in the country and we are very proud we get to do it from Manchester and the North West.
"We are a company that is doing good by doing good and we are very proud for all our clients, our installer network and the people who work for Acrobat."
Acrobat Carbon Services won the award ahead of second-placed Aptus Utilities, a Bolton-based company which provides gas, water, electrical and other utility connections services across the UK, and third-placed Wiggett Construction from Oldham, which carries out building and construction contracts for a variety of public, corporate and private clients.
The winning companies and the runners-up were revealed before an audience of Fastest 50 company representatives and Greater Manchester business leaders at the Museum of Science and Industry in Manchester on Friday 4 March.
Manchester Airport Transformation Programme Director Brad Miller was the special guest at the event and delivered the keynote speech.
Paul O'Halloran, Managing Director of Manchester Evening News maker MEN Media, introduced the awards.
Paul Johnson, Executive Partner at Ward Hadaway in Manchester, talked about the contribution which the Ward Hadaway Greater Manchester Fastest 50 of 2016 are making to the Northern Powerhouse agenda and to the energy and drive of the region.
The Greater Manchester Fastest 50 recognises and celebrates profit-making privately-owned companies and organisations in the region which have shown the strongest sales growth over recent years.
Researchers at Durham Business School compiled the Greater Manchester Fastest 50 list for 2016.
Jamie Martin, Managing Partner at Greater Manchester Fastest 50 organiser Ward Hadaway, said: "This is the third time which we have held these awards and it is clear that they have really been embraced by the region's business community with the enthusiasm which is typical of the area.
"It is terrific to see such a variety of businesses thriving in Greater Manchester and the surrounding area and receiving recognition in this way.
"As a Northern law firm for national business, we are fortunate to be able to see the terrific work being carried out by companies across the region every day.
"The Ward Hadaway Greater Manchester Fastest 50 is aimed at highlighting and celebrating this achievement and endeavour, as well as showing what a great place this is to do business and I think this year has certainly done that.
"Every business in the final 50 is doing great things for the region and for the North of England as a whole – they are the real engines of the Northern Powerhouse."
The Ward Hadaway Greater Manchester Fastest 50 2016 roll of honour
Fastest growing small business
Winner: Silven Recruitment, Manchester
2nd place: Patrick Properties, Manchester
3rd place: Labour 24/7, Bolton
Fastest growing medium-sized business
Winner: LSE Retail Group Limited, Salford
2nd place: Venturi Group, Altrincham
3rd place: Kooltrade Ltd, Manchester
Fastest growing large business
Winner: Acrobat Carbon Services, Manchester
2nd place: Aptus Utilities, Bolton
3rd place: Wiggett Construction, Oldham
Fastest growing overall business
Winner: Silven Recruitment, Manchester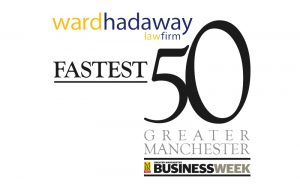 * Click here for a special Greater Manchester Business Week supplement about the Ward Hadaway Greater Manchester Fastest 50 Awards.
* Find out more about the Fastest 50 Awards.
Please note that this briefing is designed to be informative, not advisory and represents our understanding of English law and practice as at the date indicated. We would always recommend that you should seek specific guidance on any particular legal issue.
This page may contain links that direct you to third party websites. We have no control over and are not responsible for the content, use by you or availability of those third party websites, for any products or services you buy through those sites or for the treatment of any personal information you provide to the third party.