Joe is an Associate in the award-winning Commercial Litigation unit at Ward Hadaway, dealing with a wide range of disputes in a number of sectors and disciplines.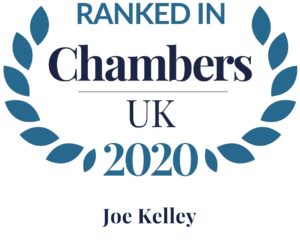 Joe has been recognised for a number of years by both Chambers & Partners and Legal 500 as an "Associate to Watch" and "Rising Star" respectively. These independent industry guides have described Joe as "a very shrewd litigator ", "a very knowledgeable lawyer" and "offering an extremely good service".
Experience
Joe works on a broad spectrum of complex commercial and public sector disputes, including national and international litigation. Examples of litigated cases Joe has worked on include:
Claims arising from commercial and corporate transactions, including shareholder disputes, claims under share sale agreements and disputes in relation to joint ventures;
Procurement litigation in both the public and private sectors, involving acting on behalf of both contracting authorities and disappointed bidders in procurement challenges;
Professional negligence actions against solicitors, accountants, financial advisers, surveyors and tax advisers;
Insurance claims against both insurance brokers and insurers, including claims which involved disputes regarding breaches of warranty, non-disclosure, breach of conditions precedent and the interpretation and construction of insurance policies and their terms; and
Breach of contract claims in a cross-section of industries, including telecommunications, retail, logistics and IT.
In addition to Joe's commercial and public sector experience, he has an extensive practice in private wealth disputes. Joe is an associate member of ACTAPS (The Association of Contentious Trusts and Probate Specialists), having completed their three-year diploma at the University of Law. Joe is also an affiliate member of STEP (The Society of Trusts and Estates Practitioners), at which he is a member of the Special Interest Group for Contested Trusts and Estates.
Joe acts on behalf of private individuals, families, trustees and charities in a wide range of private wealth disputes, including:
Bringing and defending challenges to the validity of Wills, based on allegations of lack of testamentary capacity, want of knowledge and approval, undue influence and fraudulent calumny;
Dealing with applications under The Inheritance (Provision for Family and Dependants) Act 1975 in respect of individuals who have not inherited from a deceased person's estate;
Pursuing actions on behalf of beneficiaries against trustees for breach of trust in respect of the mismanagement of trust assets;
Bringing and defending actions to remove both executors and trustees;
Acting for private investors and IFA firms regarding investment and financial services disputes, including claims relating to allegedly negligent investment advice; and
Proprietary estoppel and constructive trust claims, particularly for clients in the agriculture sector.
Joe also has particular experience in sourcing and implementing alternative funding packages for clients, in particular in conjunction with the third party funding and after-the-event legal expenses insurance markets.