Some of the North East's largest businesses have praised Newcastle Airport's brand new double-daily route which will take commuters directly into the heart of London.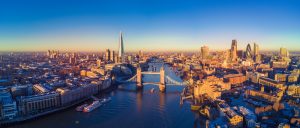 North East-based businesses such as Sage and Ward Hadaway, as well as business organisations including CBI and the North East England Chamber of Commerce have branded the new route to London City Airport as 'terrific' and 'ambitious'.
The flights will add to Newcastle's ever-growing list of business-focused routes, and will get busy commuters into the centre of London in just 70 minutes.
Operated by Eastern Airways, a franchise partner of Flybe, the new service brings a second direct London option from the North East's largest airport – in addition to the multiple daily flights to London Heathrow with British Airways.
The new service, which is now on sale, will operate from 7th January 2019 and will fly directly from Newcastle Airport to London City – the only airport based in the centre of the capital.
Sage's Managing Director UKI, Sabby Gill, said: "A direct link to the heart of London is a huge boost for our region's business builders and entrepreneurs, who will benefit significantly from greater access to the UK's capital city.
"Sage looks forward to supporting Newcastle Airport and helping businesses to capitalise on new opportunities offered by the route, which sends another strong signal to invest in the North East."
James Ramsbotham, Chief Executive of the North East England Chamber of Commerce, added: "The Chamber welcomes the new flight route to London. In 2017 Heathrow was the Airport's busiest route, the new double-daily route will carry more even more passengers directly into London via London City Airport.
"This will enable people to quickly commute to London and connect with people around the world, helping to support businesses in the North East.
"These flights will also enable increased tourism and inward investment within the region. International companies will have greater access to the North East, allowing them to visit and invest in the region."
Sarah Glendinning, Regional Director at CBI, said: "CBI is delighted with the ambition shown by Newcastle International Airport and welcomes the announcements of these new routes to London City.
"Not only do they provide easier access to world markets for our regional businesses, but also the return opportunity to support investment in our region.
"Opportunity to raise regional productivity benefits UK plc and growth of routes like these show that the North East is open to trading with the world."
Jamie Martin, Senior Partner at Ward Hadaway, added: "This new route is a terrific addition to the region's connectivity to Europe and of course the City and the South East of England.
"As we move towards Brexit, the region's transport links become more important than ever and the team at Newcastle International Airport and Flybe are to be congratulated on delivering this route at this time, the business community must now use it."
Operating at business-focused departure times throughout the week, the first flight of the day will depart from Newcastle Airport at 8:05am, with passengers arriving in London City at 9.15am.
An additional evening flight will depart Newcastle Airport at 5.50pm, for arrival in London City at 7pm.
Return flights from London City Airport will depart twice a day at 9:45am and 7.30pm. On Sundays, an evening flight will operate from Newcastle Airport at 5.50pm.
Flights are available to book at www.flybe.com.
Please note that this briefing is designed to be informative, not advisory and represents our understanding of English law and practice as at the date indicated. We would always recommend that you should seek specific guidance on any particular legal issue.
This page may contain links that direct you to third party websites. We have no control over and are not responsible for the content, use by you or availability of those third party websites, for any products or services you buy through those sites or for the treatment of any personal information you provide to the third party.