Trainee Tom shortlisted for major award
WARD Hadaway trainee solicitor Tom Slinger has been shortlisted for a major legal award.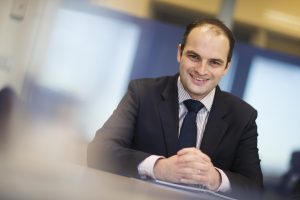 Tom (pictured), who works in the UK Top 100 law firm's Manchester office, has been nominated for the title of Trainee of the Year in the Manchester Legal Awards 2014.
The 29-year-old, who is originally from Manchester, has been working at Ward Hadaway since September 2012.
Before joining the firm, Tom studied at the University of Manchester, where he graduated with a degree in Politics and History, before commencing his legal studies.
He is now on a four-strong shortlist for the title of Trainee of the Year at the Manchester Legal Awards 2014, which are organised and staged by Manchester Law Society.
Speaking about his nomination, Tom said: "It was a nice surprise to learn that I had been shortlisted as the legal market in Manchester is extremely competitive and I know I'll be up against some stiff competition.
"I am really enjoying my time as a trainee at Ward Hadaway. I have been able to work across several of the firm's practice areas, including employment, corporate, commercial property and litigation and this has really broadened my legal expertise.
"It has also been exciting to be part of a new team in Manchester who are ambitious and looking to grow our presence and influence in the city.
"To win this award would be a huge achievement."
To be eligible for the award, candidates for Trainee of the Year had to demonstrate outstanding achievement during their training contract.
They also needed to display a client-focused attitude, initiative and excellence in their work and sensitivity to professional values along with leadership potential within and outside the law firm they work for.
Martin Hulls, Partner and Head of Office at Ward Hadaway in Manchester, said: "We are all absolutely delighted for Tom and this recognition is thoroughly deserved.
"Tom is an extremely able and enthusiastic trainee who puts in a lot of hard work and is an important part of our team in Manchester.
"He is always willing to go the extra mile for clients and for his colleagues which makes him a very popular member of the team.
"As our first trainee in the Manchester office, he has set the bar high for those who follow in his footsteps and we wish him the very best of luck for the awards in March."
Ward Hadaway, which also has offices in Leeds and Newcastle, opened its Manchester city centre office on Chapel Walks in summer 2012.
The firm offers expert advice in areas including corporate, property, employment, company and commercial, litigation, healthcare, insolvency and corporate recovery and services for the creative industries.
The Manchester Legal Awards 2014 will be presented at a black tie dinner at the Midland Hotel in Manchester on March 6.