Charity's new trustees plan to get more people active
Charity Tyne & Wear Sport has appointed two new members to its Board to coincide with the launch of a new strategy which aims to tackle inactivity in Tyne & Wear.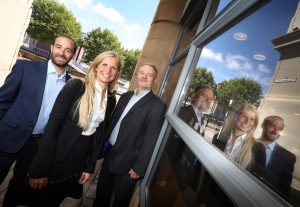 Matthew Cormack is a Partner in the Commercial team at Ward Hadaway. He is a strong believer in staying active and took part in the Tokyo Marathon in February, the Virgin Money London Marathon in April and is aiming to complete the six world marathon majors.
Alex Blenkinsop is a Newcastle-based solicitor for Muckle, specialising in dispute resolution. She is also a keen runner, completing many half marathons including the Great North Run.
Andrew Walton, chair of Tyne & Wear Sport said, "Both appointments to the board come at a time when we are launching our new strategy that focuses on creating a more active, healthy and productive sub region.
"We are delighted that Alex and Matthew have joined our team. They will add additional skills that strengthen the capability of the board and will play an important role in steering Tyne & Wear Sport towards its objective of tackling the worrying levels of inactivity in our area."
The Tackling Inactivity Strategy has been produced in response to the trend towards people moving less, with recent figures showing that 27.5% of the adult population in Tyne & Wear are classified as inactive, which means they take part in less than 30 minutes of exercise per week.
Matthew Cormack said, "I'm a strong believer in the benefits of staying active and the benefits this can have both to individuals but also our region as a whole. The Tackling Inactivity Strategy highlights the nature of the challenge faced by our region in terms of the consequences of inactivity, and I am really excited by the challenges ahead for the organisation in delivering against this plan, and for the opportunity to help through my role as Trustee.
"It has never been more important to support people in leading healthier, active lifestyles and becoming a trustee gives me the opportunity to make a positive impact on the health and wellbeing of those in our region."
Alex Blenkinsop said, "I'm delighted to join the board of Tyne & Wear Sport. I'm a keen runner and netball player and a firm believer in the benefits of exercise for improving mental and physical health and wellbeing. Becoming a member of the Tyne & Wear Sport team is a great opportunity to get involved with promoting activity of all kinds on a regional level and I'm excited to work with the charity to help tackle inactivity in the North East."
The Tackling Inactivity Strategy is available to view online at www.tynewearsport.org/strategic-information