YORKSHIRE has the potential to be the next UK hotspot for technology development and innovation, according to a leading IT lawyer.
Gareth Yates, a Partner in the IT team at Ward Hadaway in Leeds, says all the building blocks are in place for Yorkshire's technology sector to become a driving force in the region's economy – and to make an impact on the national and international stage.
The comments come as the build-up continues to the Ward Hadaway Yorkshire Fastest 50, the annual run-down of the fastest growing privately owned companies in Yorkshire which Ward Hadaway sponsors and organises in association with The Yorkshire Post.
Technology companies have featured strongly in previous editions of the Ward Hadaway Yorkshire Fastest 50 and Gareth Yates, who advises a wide range of IT businesses from start-ups to major multinationals, believes the potential for further growth in the region's tech sector is substantial.
Gareth said: "Yorkshire may not be as well known for its technology sector as the likes of Silicon Roundabout in London or Manchester's creative and digital sector, but it is a fact that this region is home to some of the most innovative and forward-thinking technology businesses, not just in the UK but internationally.
"We have the talent here to rival anywhere else in the country and I believe the region is very well set up to continue to grow this side of its economy.
"Sheffield City Region and Hull are excellent centres for manufacturing and energy technology with developments like the Advanced Manufacturing Park in Rotherham and the Siemens renewable energy hub under construction in Hull.
"Leeds is also very well geared-up for 'clean-tech' industries, such as digital media, pharmaceuticals and particularly financial technology – the city's long-established reputation as a centre of excellence for professional services certainly helps in this regard.
"These types of technology businesses are becoming increasingly attractive for investors for a number of reasons: they are relatively cost-effective to start-up, they have the potential to scale-up very quickly and the returns on investment can be substantial if the right product or service is developed and it really takes off.
"We are seeing more and more entrepreneurs and investors coming into this sector and we anticipate that this growth will continue over the coming years."
Yorkshire's connectivity and cost base are also seen as major advantages in developing its technology sector.
Gareth explained: "Somewhere like Leeds is only 2.5 hours from London but the costs in terms of office space and overheads are going to be smaller so setting up your hi-tech start-up here makes a lot of sense.
"Major players in the sector are already seeing this – witness Sky Betting and Gaming creating 200 jobs in Leeds and Sheffield in its technology and contact centre and its Technology Hub last year.
"I think more will follow in their wake as the message spreads within the industry about the opportunity available in Yorkshire for technology companies."
Gareth Yates said as well as recruitment and retention of talented people, it was also important to stress the wider network of support available to technology companies.
He explained: "Like all companies, tech firms need legal support, but they need support which understands the particular challenges they face and the fact that technology itself is constantly changing.
"As technology lawyers, myself and the team at Ward Hadaway advise on how best to structure a company at start-up, the creation of effective trading contracts, the protection of intellectual property rights and the retention of key personnel."
Looking to the future, developments in the law are likely to have quite an effect on the way tech companies in Yorkshire and across Europe operate.
Gareth explained: "There are going to be major changes in data protection laws within the next couple of years which will affect virtually all companies operating across the technology sector, as well as other sectors.
"The net effect of these changes will be that companies will have to factor in protection of users' data from the outset when developing any new technology, product or service that involves the processing of personal data.
"With many companies in the tech sector focused on providing products/services to individuals and processing large volumes of personal data it is likely that all these businesses will be required to adapt their existing technology and processes to ensure compliance with the changes in the law."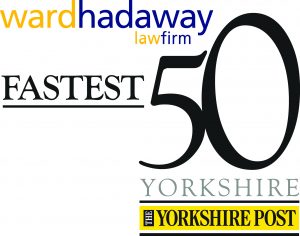 The Ward Hadaway Yorkshire Fastest 50 2016 Awards take place at Aspire Leeds on Friday 18 March when awards will be given to the fastest growing small, medium-sized and large privately-owned businesses in Yorkshire with one of those winners going on to be crowned the overall fastest growing business.
* Find out more about the Fastest 50 Awards.
Please note that this briefing is designed to be informative, not advisory and represents our understanding of English law and practice as at the date indicated. We would always recommend that you should seek specific guidance on any particular legal issue.
This page may contain links that direct you to third party websites. We have no control over and are not responsible for the content, use by you or availability of those third party websites, for any products or services you buy through those sites or for the treatment of any personal information you provide to the third party.