YORKSHIRE is ideally placed to become a hotspot of the UK's fast-growing and highly lucrative fintech industry, according to IT experts at law firm Ward Hadaway.
Lawyers at the Leeds office of the UK Top 100 firm, which organises the annual Ward Hadaway Yorkshire Fastest 50 celebration of the region's fast growing companies, say that Yorkshire's geographical position, traditional strengths in financial services and its appetite for new technology make the perfect recipe for fintech companies.
A string of fintech-centred businesses, including companies operating in the insurance, gaming and banking industries, have set up in Yorkshire over the past two years, attracted by the combination of a fast-growing, innovative digital sector and a long-running history of financial expertise.
More are now set to follow in their footsteps and increase Yorkshire's share of the £20bn a year fintech sector, believes Gareth Yates, Partner in the IT Team at Ward Hadaway in Leeds.
Gareth (pictured) said: "There is no doubt that the reputation of Yorkshire as a centre for fintech innovation, growth and development is on the up in a major way, particularly in our cities.
"Leeds, for example, has the highest concentration of financial services workers outside of London and is home to over 30 national and international banks, as well as a highly developed professional services sector to support activity in that area, so Yorkshire already has a head start on other areas of the country outside London.
"However, it takes more than just know-how in traditional finance to become a breeding ground for 21st century fintech enterprises and one area where Yorkshire has really excelled is being not just open to new technology but actively encouraging it.
"For example, almost three years ago now, Leeds became the first UK city outside London to open the first dedicated 'fintech accelerator', Dotforge, designed to nurture and grow start-up companies focused on the sector and later this year, the city will be hosting Fintech North, a one day festival that focuses on digital innovation in the financial services industry, as part of the Leeds Digital Festival."
Gareth also pointed to the way developments in Yorkshire cities are increasingly designed with tech players in mind.
He explained: "New office schemes in places like Sheffield and Leeds often come equipped with the latest in broadband connectivity and other essentials for tech-based businesses.
"We also have an independent and resilient digital infrastructure which does not rely on London to connect us to the internet – one of the reasons why Leeds is home to a number of major data centres and has previously been put forward as a potential alternative 'back-up site' for the likes of the London Stock Exchange in times of crisis.
"Added to this the ideas and know-how being generated at universities across Yorkshire and nurtured via a range of support agencies and organisations and you have a potent recipe for success in what is already a lucrative sector and is set to become even more so over the next few years."
Ward Hadaway has itself been playing a part in this process.
As well as promoting the excellence of Yorkshire businesses via the Yorkshire Fastest 50, the firm provides legal support to a range of tech-focused companies and entrepreneurs, including some of the major players in Yorkshire and the UK.
Ward Hadaway has also been keeping a close eye on new developments in the sector via its work with Tech North, the Government-backed organisation which promotes and supports the technology industry across the North of England.
Ward Hadaway was the official legal partner for the Northern Stars 2016 competition, which set out to discover the most promising early stage technology companies across the North of England.
Gareth Yates was a judge at the Yorkshire heat of the competition, held in Sheffield, and was impressed with what he saw.
Gareth said: "Judging by the companies which entered the competition, the future for the tech sector here is very bright indeed.
"In many ways, it was difficult to pick winners from the businesses which we saw since all of them delivered a great pitch and showed a great deal of passion and drive in respect of their particular innovation, and many had already developed to the point of significant commercial success in their venture.
"There were some real stars amongst those who took part in the competition and if these companies are an example of the next generation of tech businesses, there is a lot to look forward to in the coming years.
"It would not surprise me to see some of these businesses taking their place in future editions of the Ward Hadaway Yorkshire Fastest 50."
The current pace-setting companies across Yorkshire will be unveiled next week when The Yorkshire Post publishes the Ward Hadaway Yorkshire Fastest 50 2017 – the A to Z list of the fastest growing companies across the region.
This is compiled by independent economic researchers who analyse company financial figures to create a run-down of the privately-owned, profit-making companies who have seen the biggest annual expansion in their turnover in recent years.
After the list is published, a special awards event will be held in March where awards will be handed out to the fastest growing small, medium-sized and large businesses, for companies with annual turnover of between £1m and £7.5m, between £7.5m and £15m and turnover of more than £15m respectively.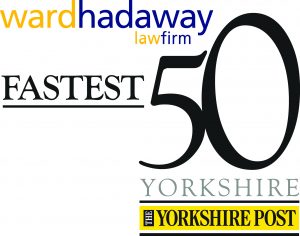 One of those three winners will then receive the accolade of being crowned Yorkshire's overall fastest growing business for 2017.
* Find out more about the Fastest 50.
Please note that this briefing is designed to be informative, not advisory and represents our understanding of English law and practice as at the date indicated. We would always recommend that you should seek specific guidance on any particular legal issue.
This page may contain links that direct you to third party websites. We have no control over and are not responsible for the content, use by you or availability of those third party websites, for any products or services you buy through those sites or for the treatment of any personal information you provide to the third party.